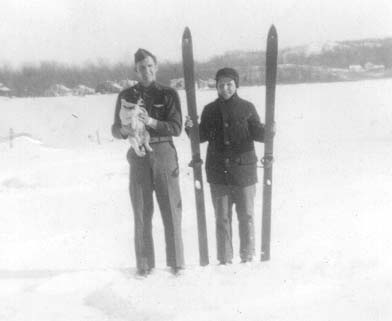 The Past Memories of Runyan Lake
By Noel M. Francis
I have fond memories of when my first cousin Howard and I lived year round (winter and summer) at the so called cottage on Runyan Lake.

I can remember when my father, Noel Sr. and Bobby O'Dell would troll for hours fishing for northern pike.

I remember not having electricity therefore we had no lights but we did have kerosene lamps; we never had a refrigerator but we did have an ice-box. We didn't have a radio or television but we did have each other and occupied ourselves by building model airplanes, going ice-skating in the winter or going " frogging" in the summer.

We didn't have school bussing so Howard and I would either walk to school in the summer or ski there in the winter. It was only three miles to our one room school house. We had all eight grades in the same room so you heard each test from the first grade to the eighth grade for eight years. If you didn't pass your eighth grade exam, you were pretty stupid.

I recall Grandpa Lyon taking Howard and me to catechism every Saturday and taking all of us to mass every Sunday even though he wasn't Catholic. He would pick us up after mass and drive like crazy back to Runyan Lake; where he had already made breakfast and had kept it warm. He'd walk into the house and say, "I wonder what little angel made breakfast for us" and than get the biggest grin on his face.

It's ironic that the same church Howard and I went to catechism in was the same church Willie and I got married in, fifty three years ago and now after an eighteen year absence, are now back going to the same church.

I remember when times were real bad at the lake because grandpa wasn't working a lot of hours at Yellow Coach in Pontiac. To make ends meet, they started up a beer garden and sandwich shop. The beer garden was the entire front porch. Grandma would make homemade soup and sandwiches to sell. People from all around Runyan Lake made up most of their customers. On Saturdays, I would ride all the way into Flint (20 miles) to pick up beer, wine and pop from the wholesale distributor.

I forgot to mention that Howard and I had chores to do every Saturday. One of our chores was to clean every kerosene lamp inside with a newspaper. What a dirty job, but wish we could do it all over again.

After grandpa Lyon died, Willie, our first-born (Mike) and I lived with grandma for several years because she could not drive a car. What fond memories.
(Dave's Note: This article is in response to my 2001 request from the family elders to recall their memories of Runyan Lake in the 40s)