EDWARD KRAJENKA
by Carmen Castillo Schultz – June 20, 2013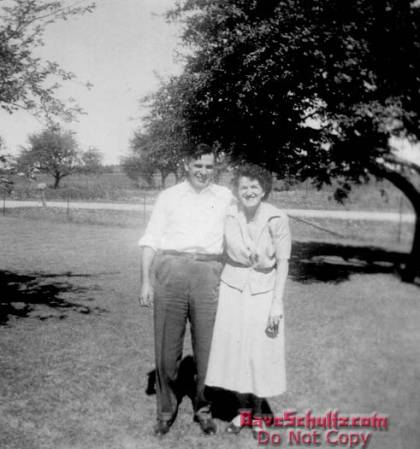 Edward Krajenka 89 of Dwight Township, passed away Saturday, January 15, 2011 at his home. Ed was son to Frank Krajenka who was my grandmother's (Josephine) youngest and favorite brother. Ed was her nephew and now owned the farm that had been in the family for over 150 years.
He was born August 31st (NEED YEAR), in Dwight Township to the late Frank and Martha (Bodis) Krajenka.  In 1955 he married Rita Goretski at St. Michael's Catholic Church in Port Austin.
Edward was a Sergeant in the U. S. Army during World War II, where he was in the Pacific Theater. World War II, also known as the Second World War. It was a global war that lasted from 1939 to 1945. It involved the vast majority of the world's nations—including all of the great powers—eventually forming two opposing military alliances: the Allies and the Axis. It was the most widespread war in history, with more than 100 million people serving in military units from over 30 different countries. In a state of "total war", the major participants placed their entire economic, industrial, and scientific capabilities at the service of the war effort, erasing the distinction between civilian and military resources.  This is what I was trying to explain to you in my NOW AND THEN story. Ed was in agriculture and farmed the family farm.  He enjoyed puzzles, playing cards, watching football, baseball, the weather and visiting with family and friends but above all came His God, His family and his farm. I first met him at a Krajenka family reunion that I went to with my brother Noel and Sister in law Wilma.  I found him to be both interesting, intelligent and a joy to be around.  Like my Grandmother and so many of the Krajenka clan, he was very family oriented and cherished his family and his heritage.  I learned much from him that day and will carry it with me always.  His wife Rita is a lovely giving person as was Regina.  His daughter Monica knew of her father's desire to find out as much as possible about the hard working, adventurous people that came before him (our ancestry) and thus was the one who studied through many different books, records (church, city, ship records etc.) to find the family history dating so far back (1747).  Not many families can boast having a family history that dates 266 years in the past.  I pray that all current and future generations will appreciate the work and time consuming task this took so that we might carry on the legacy.  I so appreciate all the work David (my son) has contributed to extending the search to know about our family.
Ed was survived by his wife, Rita, three sons, Gerard (Lillian) Krajenka of New Hampshire, Larry (Yvonne) Krajenka of traverse City, Kevin (Pam) Krajenka of Clinton Township, two daughters, Monica Krajenka of Warren and Geralyn Krajenka of Ohio; and five grandchildren.
Ed was preceded in death by infant twins, Leo and Francis, one infant brother, Chester, one brother John Krajenka and four sisters; Mary Krajenka, Theresa Krajenka, Regina Gottschalk and Helen Giroux.